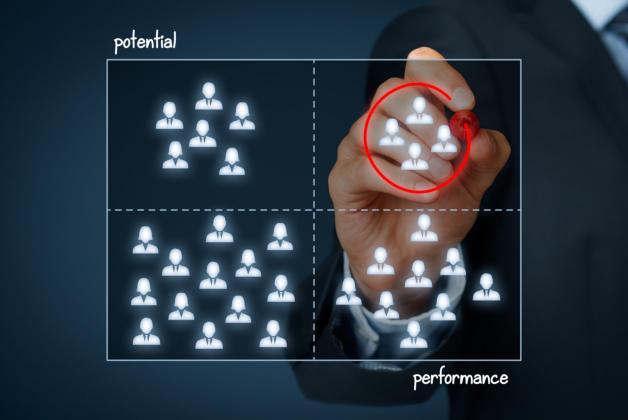 The concept that 'Feedback is a Gift' has been promoted recently in the media (Bersin, 2015).
Feedback is a gift to give (i.e., we should give it kindly and with respect) and

Feedback is a gift to receive (we open it carefully, take it with respect, and thank the giver)."
Giving and receiving feedback is an essential part of leadership. Getting honest feedback is a challenge that a 360 degree feedback survey can meet particularly when administered by an external provider.
At Practice Five we have developed our own proprietary software for administering 360 degree feedback surveys. Our software handles questionnaire design, administration, participant and rater emails, progress and reporting.
Whether it is using our Practice Five® framework or another survey set we can provide a range of integrated and tailored services for self-assessment, 180 degree, 360 degree and 720 degree survey administrations. Our qualified coaches can design customised coaching sessions based on your people's results and deliver them in a variety of formats.
+ Read More
The concept that 'Feedback is a Gift' has been promoted recently in the media. Where feedback is a positive and helpful experience, it creates a two-way dialogue for mutual understanding and benefit.
Giving feedback is an essential part of being a team member and particularly of being an effective leader. It is the process by which the leader and all team members learn, and done successfully, feedback strengthens the bonds between all team members.  But where do you start?
Our 360 Degree Feedback Process is Second to None
At Practice Five we provide training, consultation and resources to other organisations in the use of giving and receiving feedback. Our 360 Degree Feedback process has proved to be highly effective of organisations across a wide range of industries and disciplines.
We're really passionate about it because we know the potential it has to ignite the spark that gets your organisation revving at full throttle. We know that because in the time we've been in our role as 360 Feedback consultants, we've seen so many incredible transformations take place.
Workplaces that were literally crushing the soul out of their employees were simply booming with energy and vitality within a month or two of the management implementing the methods suggested by our 360 Feedback specialists.
Practice Five has developed its own proprietary 360 Feedback tool for Australia. So what is this and what does it do? That's a really good question and the answer is going to be exciting for you.
Our 360 Degree Feedback tool is the easiest way to implement the 360 Degree Feedback method into your workplace. 360 Degree Feedback works on the principle of open communication between employees and management, but where employees do not need to take exceptional risk in raising issues of concern to them.
This is not a new concept in itself. Dale Carnegie and many others were talking and writing about the value of feedback in business management more than 70 years ago, and providing their own case study examples to back up the effectiveness of soliciting employee feedback and allowing employees to have a say in the running of a company.
Somewhere along the way, however, today's managers have forgotten many of the lessons that were learned in that previous era. The result has been to make employees generally distrustful of employers, resulting in many feeling the need to devote more of their attention to job security and to "upskilling" than to actually doing the job they're being paid to do.
Workplace morale and esprit d' corps is typically low, even in positive work environments where employees seem happy.
The only way for management to truly know if employees are truly happy is if the employees themselves, without hesitation, share their feedback on the way things are done in the workplace. Equally vital, is for management to show that it listens to this feedback and acts on it where appropriate.
Perform Your Own 360 Degree Evaluation of Your Leaders
Our feedback tool enables you to perform a 360 Degree evaluation of your leaders, giving them an important source of information on the impact of their style and behaviour.
The information is collected by a 360 Degree survey, which is distributed to those that have ongoing dealings with a leader, completed anonymously (but verifiably) by direct reports, peers and even customers, and because the data is processed externally by our 360 Degree assessment, respondents can answer with complete honesty.
Your leaders are provided with a confidential report outlining the feedback on the way they are perceived and one-on-one coaching by our qualified coaches can help them establish context and develop an action plan. Group reports showing how unit , departments, divisions etc. can be provided as well.
Contact the experts at Practice Five today and find out how you can put this system to work in your business.
Practice Five are your management consulting experts offering the unique 360 degree feedback system allowing for much better business leadership training. We also have a range of business development training & leadership developmental programs.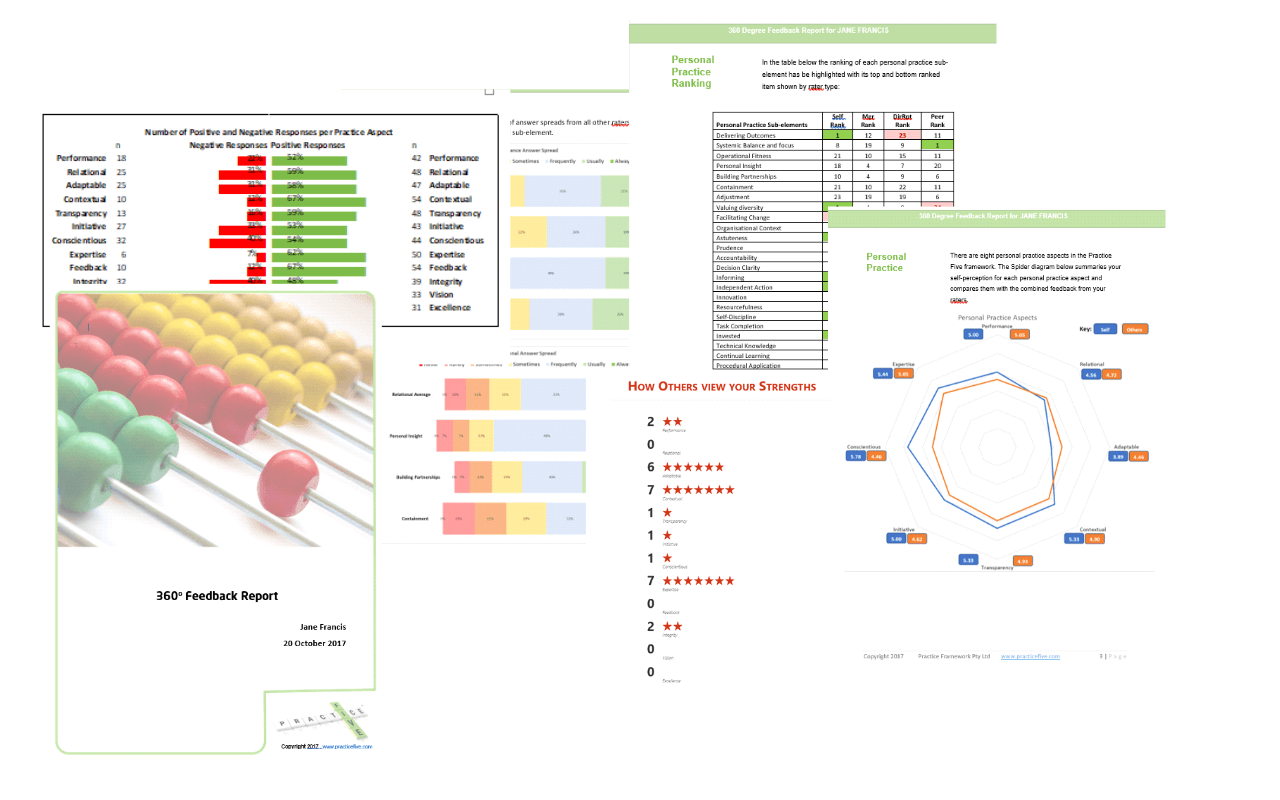 360 degree feedback report sample pages